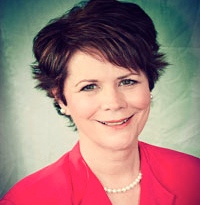 Ellen Foley, an award-winning journalist and an accomplished digital media advisor, joined WPS as vice president of corporate communications in 2013. Ellen leads the communications and marketing efforts in addition to supervising corporate events, community relations, media relations and the company's philanthropic efforts. She serves as vice president of the WPS Charitable Foundation Board.

In her tenure at WPS, Ellen has expanded the role of marketing and communications, particularly emphasizing the company's new efforts to create transparency in internal and external communications, and is now the company's senior vice president of corporate communications.Ellen specializes in complex and community-focused strategic work. Her efforts as editor-in-chief at the Wisconsin State Journal earned the journalists there many awards for online and print projects, including a Pulitzer Prize finalist honor in 2008.

As executive director of communications and community development at Madison Area Technical College, she led the successful effort to win a $134 million referendum in November 2010. In 1988, Ellen founded the Violence Against Women Coalition in Minneapolis-St. Paul after the tragic murder of her sister, Mary. The coalition successfully advocated for legislative change of the penalties for sexual predators.

Ellen volunteers as a director of the Forward Theater Board and the Morgridge Center for Public Service Board of Visitors at the University of Wisconsin-Madison.Prior to joining WPS, Ellen worked as the digital communications leader for Rippe Keane Marketing and president of Foley Media Group beginning in 2008. Her expertise as a social media and digital marketing executive is chronicled in the recently released book, "Social Works." Ellen has held editing and reporting positions in Michigan's Upper Peninsula, Milwaukee, Detroit, Minneapolis, Kansas City, and Philadelphia. She earned a master's in journalism and a bachelor's degree in political science, both at UW-Madison.