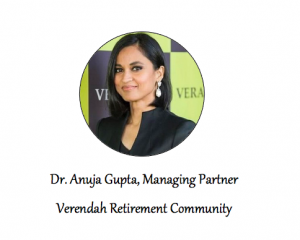 HIGHLIGHTS: Excellence in Entrepreneurship Award – Daily Herald 2020
                        Outstanding Asian American Award-Cook County 2020 & 2021
Anuja Gupta was a practicing cardiologist in the Chicago land area. Young and successful, she felt fulfilled in both her career and family life. Upon the recommendation of a friend, she attended a wealth generating educational seminar by Rich Dad Poor Dad, and according to Dr. Gupta, she was jolted into realizing two things – a) she did not own her time and b) she wasn't as financially secure as she wanted to be. The seminar was her "aha" moment, and using the same "work hard work smart" ethic that had propelled her into her career as a cardiologist, Dr. Gupta set her sights on real estate.
Educating herself in the area took some time, and she describes the first five years as "disastrous", with her husband and her family questioning the move, and she herself wondering what she was doing. But not being one to quit in the face of obstacles, and drawing upon her grit and tenacity to move forward, she is now a formidable player in the world of real estate. She identified a gap in the real estate market for South Asian seniors in the Chicago area needing suitable retirement home options. Dr. Gupta is a managing partner of a highly lucrative project, the Verandah Retirement Community, a senior living facility in Schaumburg, Illinois, designed to serve the needs of South Asian American retirees.
Dr. Gupta cites her ambition to dream big and her resilience as being qualities she used to climb her way to the top in the world of real estate. With her income no longer chained to her physical presence at any job site, she loves owning her own time and challenging herself to tackle bigger and better problems. She advises budding entrepreneurs to 'find a meaningful and impactful career that makes you happy. Be the architect of your own life." Dr. Gupta is the co-founder of the Women's Empowerment Campaign Chicago (WE), a networking & empowerment platform for Indian & Southeast Asian women in Chicago, and is also a co-organizer of this event and a champion for budding entrepreneurs.