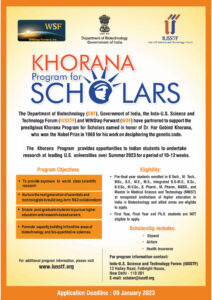 The Khorana Program has returned from the hiatus of the pandemic. Apply here today and share it with your friends or family!
On the 100th anniversary of Har Gobind Khorana's birth, we have the pleasure of inviting applications for the prestigious Khorana Program for Scholars.
The mission of the program is to nurture talent and build seamless communities across scientific and geographic boundaries. Reflecting Dr. Khorana's scientific journey, the program enables talented Indian students to engage in immersive research internships at leading research institutions across the United States. Founded in 2007, nearly 675 students have participated in the program with over 60% obtaining higher education at some of the world's top universities.
To honor Khorana's centennial year, the Department of Biotechnology (DBT -Government of India) has provided support for 75 Khorana scholars for the 2023 program. Jointly co-administered by the Winstep Forward (WSF US 501(c)(3)) and the Indo-US Science and Technology Forum (IUSSTF), the applications will be accepted until January 15th, 2023. This date marks Khorana's birth and Mahatma Gandhi's return to India. The new deadline is not updated in the flyer above.  Apply Now!