Khorana Bose Alumni Chapters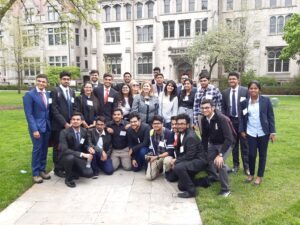 Vision:
The chapters are a way for Khorana Bose Scholar Alumni to stay in touch with another as well as continue to be a part of the Khorana Bose Program.
Mission:
The Khorana Bose Alumni Chapters' main goals are to organize social events with incoming scholars, assist new scholars with adjusting to their new institution and answering any questions that come up.
Community:
We hope to foster a sense of community among graduate students at places all over the United States that is due to their experience with the SN Bose and Khorana Programs. Keeping these connections not only can motivate you to remember your great experience, but also allow people of similar work ethic and creativity to be around each other.
Programs Available to Alumni:
Khorana Bose Alumni Mentor Network
Become a mentee or a mentor for the KBA Mentor Network. Because many of our alumni are now past the PhD and post graduate stages, and are even entering into their careers, they can provide invaluable coaching to alumni who are yet to enter those phases. Consider giving back by becoming a mentor yourself. We will have a speed mentoring round during our next virtual Mentors Mentees meeting, so make sure to join!
Khorana Bose Program Content Development
If you have an idea that you feel will benefit students not just in India but around the world, and you think WSF is ideally situated to develop and implement the idea, we will work with you to bring it to life. We rely heavily on our alumni for ideas on improving current programs and developing new ones.
Khorana Bose (KB) Virtual Programming
WSF will continue to provide you with in person and online programs that will reflect your career-related growth. Currently we have/are developing programs that span from high school to post graduate career development. Examples include:
Virtual FIELD Sessions (ongoing) – https://www.winstepforward.org/field-sessions/
Virtual European Masters PhD Session – February 27 and March 6, 2021
Sci-ROI – provides a database of STEM job openings in India
Existing Chapters: