I was indeed fortunate to get an opportunity to intern at WEMPEC, UW-Madison under Prof. Giri Venkataramanan through the S.N.Bose Scholars Program. Along with the initial excitement, there was a certain amount of anxiety throughout the visa application and interview process. Finally everything was set and I reached Madison. An orientation program for all the 2017 Bose and Khorana scholars was organized at UWM itself which got us familiar with how the programs came into being and let us mingle with scholars from other universities and former scholars.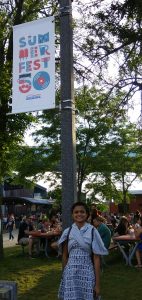 My project was in the field of power electronics and I worked on simulation and implementation of a prototype of a multi-stage converter. Prof. Giri and everyone at WEMPEC are extremely helpful and encouraged me to not just simulate but implement circuits, giving me a better understanding of power electronics. Former scholars who are now graduate students at UWM conducted biweekly meetings wherein we presented our project work. Their tips helped us better our outlook not only towards our projects and but towards research as a whole.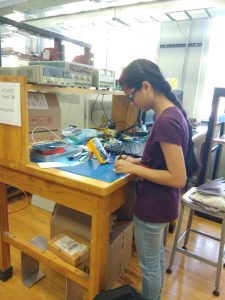 Madison is a beautiful city built on the isthmus between Lake Mendota and Lake Monona. We stayed at Adams Residence Hall, at the shore of Lake Mendota. I enjoyed jogging along the Lakeshore path to the terrace for a scoop of delicious Babcock Ice-cream at the Daily Scoop store. We had a taste of fresh local produce at the Farmers' Market. Many museums on campus such as the Veteran's museum and the Geology museum are worth paying a visit and entry is free of cost. The State Capitol is simply majestic and the guided tour is again completely worth going on and is free. The Henry Vilas Zoo is a nice weekend outing for animal lovers. The Olbrich Botanical Gardens are beautiful and well maintained. The free guided tour helped me appreciate the beauty even better! Our usual Saturday breakfast place was Mickies Dairy Bar, an authentic American diner. The food is simply delicious and very reasonably priced! We went on a weekend trip to Chicago. Architectural beauty, museums, huge murals, delicious deep dish pizza, hot dogs ..! It was an enjoyable weekend indeed! We even went to the Summerfest at Milwaukee for the Chainsmokers concert! Devil's Lake was a nice weekend spent in nature's lap! We swam in the lake, played Frisbee on the grass and went on a hike. Maxwell Street Days is a weekend of sale for University and Wisconsin merchandise. Shop till you drop!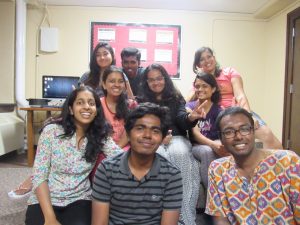 There were ten scholars at UWM including me and it was like one big family. They taught me how to cook! We had an amazing time together. I am grateful to Prof.Giri and WEMPEC, the Bose Scholars Program, WINStep Forward, my fellow and former scholars and each and every one who made it possible for me to have such an enriching experience!