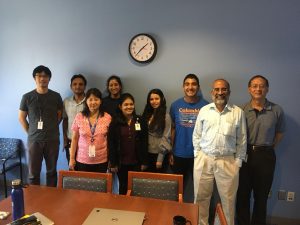 11.16 pm Feb 19, 2018: One of the best moments of my life happened that I can never forget. I was busy preparing for my mid semester exams and got a notification on my webmail from scholar@indousstf.org. I was really excited when I saw the first line of the email stating, "Dear Swati, Congratulations!  I am pleased to inform that you have been provisionally shortlisted for the prestigious Khorana Program for Scholars 2018". The journey having a lot of ups and few downs began from that day. This was really a proud feeling both for me, and the people who were there with me throughout my journey (my family, friends and few of my professors). Being the first student from Department of Life Sciences, NIT Rourkela who got selected through for the Khorana fellowship added one more cherry to the cake. The tedious visa process began and I was lucky enough to have got my U.S visa approved without any delay. The only day when I could finally believe that I am really going to travel to the States was the day I got my tickets booked by IUSSTF. I owe a big thanks to the entire team of IUSSTF and WINStep Forward for making the things so easier for us.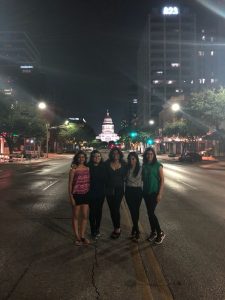 My journey started on 18th May, 2018 to University of Chicago accompanied by 7 other Khorana-Bose scholars to University of Chicago to attend the orientation program. Those three days at Chicago were awesome. Finally all of us left for our respective universities on 20th May, 2018. I reached Houston on 20th May and my roommates gave me a really warm welcome. I was lucky to have three amazing people as my roommates who made sure that I was smiling all through during my stay there. The best part of all was having Prof. Debananda Pati as my U.S host. He made sure I had everything which I would require for my stay there. He enrolled me in the summer school of Baylor College of Medicine to make sure that I get the best out of this summer internship. I met a lot of international students there. We used have daily noon research seminar talks and career development talks every Friday.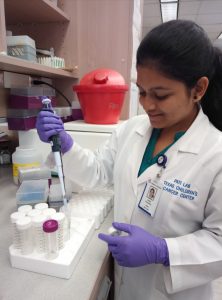 I express my immense gratitude to my mentors, Dr. Nenghang Zhang and Dr. Jessica Li who taught me the basics of my project because of which I could work independently. I worked on two projects. My first project involved studies to check the effect of Sepin-1 (a drug found by Pati lab) on patient-derived neuroblastoma xenograft tumors in mouse models. My second project involved the studies to check another class of drug in inhibiting the Ewing sarcoma cell lines and tumors. This was my first experience in working with mice and I got to learn a lot.
I explored Houston, Austin and San Antonio and visited almost all the amazing places around these cities during weekends. I would always cherish these 11 weeks and I am really grateful to be a part of Khorana-Bose family.