"Patience is bitter but it's fruit is sweet": There isn't a more appropriate proverb to describe my summer of 2018. Getting provisionally shortlisted for the Khorana Scholar's Program was indeed an indication of great days awaiting me but little did I know that I would have to pass the test of time to give wings to my dreams. After a series of emails to professors across the US, a task that was often disappointing due to the negative replies, one positive response on one fine day set the pace of my American journey.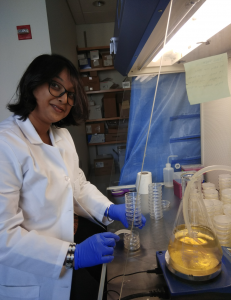 It was the University of Chicago where I was to spend my summer under the able mentorship of Infosys Prize winning scientist, Prof. Yamuna Krishnan. However this was just the beginning, the rough terrain to overcome was yet to be encountered in the form of J1 Visa administrative processing under section 221(g). It was the worst 40 days after the day of my visa interview when I had almost given up hope of realizing my beautiful dream. This delay cut short my internship to 6 weeks but today on coming back to India I can definitely say that these 6 weeks contributed to a life changing experience for me.
Chicago- the windy city, the city of the great blue Lake Michigan, the city of the oh-so-cheesy deep dish pizza, the home to the finest museums and the list goes on. With no prior accommodation arrangements, my initial 2 days in Chicago was at my cousin's friend's place in Pilsen. It was a wonderful Mexican neighbourhood which didn't yet give me the feeling of being in the US. My next few days of stay was with a PhD student at my host lab who was generous enough to accommodate me till I found a place of my own(that was hard!!). That pace gave me a beautiful view of the Great Lake and of Downtown Chicago.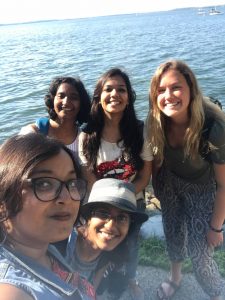 Back in lab, I was getting to know my PhD mentor, my project and my work for the rest of my stay. My host lab was in the Department of Chemistry (wait does that ring a bell?). A Biotechnology student interning in a chemistry lab is that what you might be thinking? I would like to highlight this aspect, a concept that changed the way I used to think all these years. In this lab I learnt that science is so very interdisciplinary. There is nothing called different subjects- physics, chemistry, biology or mathematics. A true scientist is one who knows how to combine and collaborate, to explore and diversify. This lab has people chemically synthesizing DNA based sensors which find applications in cellular studies. I was assigned a project that involved genetics of the model organism of choice in the lab- the nematode C.elegans. Since my duration was reduced, my project was designing an experiment after extensive literature survey, rather than forcing myself to generate experimental data within a stipulated time. This was another lesson learnt that a successful experiment is a product of a strong background study, a strong hypothesis and patient execution. There were other summer interns in the lab too and each of us were given completely different projects. At the Undergrad Symposium held in our lab towards the end of our internships, we presented our ideas and our work which was an intellectually exciting session with a common message that hypothesis matters, blindly doing experiments suggested by others doesn't count at all.
Apart from the life in the lab during the week days, weekends were the time for us to bond over food and travel with the other Khorana, Bose and WinStep Scholars interning at UChicago. Two weekends were spent roaming Chicago. This city has a lot to see. We visited the Millennium Park (abode of the famous Chicago Bean)and the Willis tower (the second tallest building in US standing 110 stories high and harboring the famous tourist attraction, the Skydeck which gave us the view of the city at large with a dizzy feeling of being so high up and looking down onto the street). Navy Pier's Centennial Wheel is an iconic part of the Chicago skyline and a treasured piece of Chicago cultural history. Soaring to heights of nearly 200 feet, the Wheel offered us unparalleled, 360-degree views of Chicago and Lake Michigan. An architecture cruise on the Chicago river (a part of Lake Michigan) is a must and we enjoyed it a lot more on a windy cloudy day. The Art Institute of Chicago is a paradise for art lovers and a treat to the eyes for us commoners. Being a Bengali, my connection to the Art Institute comes from the famous speech delivered by Swami Vivekananda at the Parliament of Religions held in this building in 1893!
The Field Museum in Chicago is one of the world's largest museums with beautiful exhibits and great collections. It harbours the fossils of the largest dinosaur in the world, the Tyrannosaurus rex- it's magnificent! A newer attraction is the Shedd Aquarium which is a storehouse of underwater beauties and a refreshing sightseeing for tourists of all ages. Chicago has a life of it's own, simply roaming on the streets of Downtown after sundown has a charm unlike any other. So much to see, do and most importantly eat(the deep dish pizzas and the Chicago style hot dogs are to die for).
We left no scope of sitting idle anytime. Other than roaming around Chicago, we scholars utilised the other weekends to explore more of US. In this short span we visited Madison, the capital of Wisconsin where the sprawling University campus, the lakes, the
State Capitol left us mesmerised. The other significant weekend getaways include visit to the New York City (yes we made it to the Statue of Liberty and Times Square!!!!!!) , the bucketlist destination none other than the Niagara Falls on the American side and the last weekend was spent at the wonderful sand dunes of Indiana! The best part is that all of these expenses were covered well within our stipend money.
As a Khorana Scholar,2018 I have gathered an experience of a lifetime making so many wonderful memories on this journey to a foreign land. My first visit to the US has got me acquainted with the life in the West, the science that is being done in the US labs have instilled in me the determination to go back again at some point in my life to complete my higher studies, to learn more from that life! For an apprehensive Indian girl in her early twenties, US was very welcoming with open arms and this opportunity given jointly by IUSSTF, WinStep and DBT, India and not to forget my host university, UChicago and my host professor, is hopefully the biggest stepping stone for a brighter future for students like us.