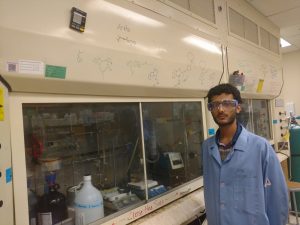 It was 25th January, a quotidian Thursday for me, at the campus on the Sabarmati until something unusual happened. I was attending my "Characterization of Materials" lecture when I received my first of the many subsequent emails from the bose@indousstf.org conveying my provisional selection in the SN BOSE program (yes I was using my mobile phone during my lecture). This was the first time I realized how a simple word can cause so much anxiety in a person's life. I started by looking up the meaning of "provisional" and ended up reading anything and everything about the SN BOSE program that can be found on internet. There was a second burst of happiness when my selection in this prestigious program was confirmed.
The next big task in hand was to contact and convince a professor to host me in his lab. With the help of the people associated with Winstep Forward program, this task was completed rather easily and I landed up with an internship offer at University of Illinois at Urbana-Champaign (UIUC). It is rightly said that the visa process for the US is one of the most difficult and tedious one. After a lot of paperwork and a rather short interview, I was ready to fly.
I arrived at the Chicago O'Hare international airport on 8th May. From there I took a shuttle to the UIUC campus. After a tiring 30 hours' journey, I finally reached my destination, 105N Gregory Street in Urbana. Taking proper rest the next day, I completed the check-in formalities with the UIUC HR department. After a rather slow couple of weeks, it was time for the orientation at University of Chicago and I saw myself heading towards Chicago once again. Rather relaxed this time, I really enjoyed the journey this time. It was a proud moment for me to share the experience of the orientation with some of the best students from my country and listening to some of the best researchers in the whole world (no kidding, Marsha Rosner, a Nobel laureate, was there too). After making some new friends and roaming the streets of the windy city, visiting famous monuments and enjoying the Giordano's (rightly so) world famous deep dish pizza. It was time to take leave from my new friends and return to Urbana, back to work.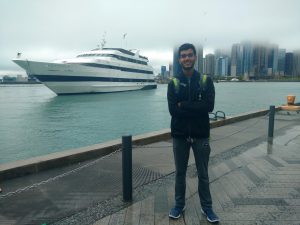 It was in the third week that I was done with the safety training and ready to enter the lab after a thorough literature review. The work started well as the self-healing hydrogels we were fabricating were showing rather promising results. The work went well for the remaining weeks of my internship and we were able to synthesize a novel dual responsive, highly stretchable and self-healing hydrogel. This was my first experimental project in materials chemistry. Understanding the mechanism of polymerization reactions and carrying them out with precision was one of the problems I faced initially. With proper safety training online courses and orientations, I was able to carry out experiments on my own. Since we developed a novel self-healing hydrogel, understanding the mechanism of it was a bit difficult as there was no literature to refer to. With the help of my post-doc guide, I finally understood the mechanism of its formation and the science behind its self-healing properties.
The internship experience was almost the same as to what I expected it to be. I expected it to be more similar to the second half of my stay. I didn't expect the safety training and all I had to go through before starting my work in the lab. Also, I learnt many things outside the lab during my stay here at UIUC. Since I was living with 3 graduate students, I got to see the life of a typical grad student at UIUC. I was working closely with a post doc and learnt how to formulate a problem and tackle it with scientific rigour.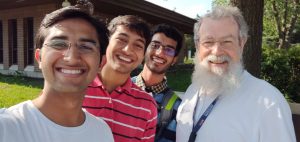 In retrospection, when I think about my internship experience, the city played a major part in making the experience a memorable one. Urbana-Champaign is a quiet university town and provides an ideal studying environment. The people here are in general super friendly with a few exceptions. Surprisingly, I found much more Indians than what I expected. There are some really cool and unique places to eat. Insomnia cookies and Mia'Za to name a few. Being just 3 hours away from Chicago, UIUC students have the opportunity to experience the life at one of the famous city in the world.
This was the best summer I ever spent both in terms of having fun and from an academic point of view. This will significantly affect (in a positive way) my future career plans and help me make more informed decisions. I made some very close friends, whom I will be in touch after returning to India as well, and some excellent professional connections too. My internship experience was made even better by my US host Prof. Paul Braun who, according to me, is the best guide anyone can possibly have for his internship. I consider myself very lucky to be part of the SN BOSE program and I will always remember and cherish this experience.