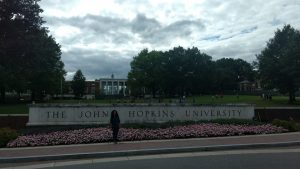 The summer of 2017 held the key to one of the most enriching and immersive experiences of my life. My words won't do justice to the richness of the entire journey, but I will try my best to pen down my exhilarating experience.
I was hosted by the well-known biophysicist Dr. Taekjip Ha from Johns Hopkins University, who not only agreed to host me for the summers, but also agreed to give additional sponsorship for covering my visa and living costs. Johns Hopkins School of Medicine is one of the top research universities in the world, and called the Mecca of Medicine by many. It was a dream come true to be accepted into the university as a summer intern.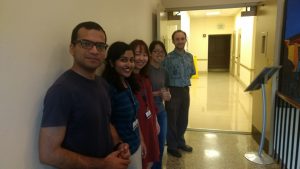 I was received at the airport by Kaustav Bera, a Khorana Program alumnus who made sure I was not lost on my first night on the foreign land. My apartment was located in a posh high rise building in Downtown Baltimore, and I shared the accommodation with some Indian girls. If you are applying for internships in Baltimore, make sure you choose your accommodation wisely. Baltimore is not a safe city, so areas near Downtown or Homewood Campus of Johns Hopkins are best suited for short and safe stays.
Dr. Taekjip Ha and Dr. Sua Myong run the Ha-Myong lab, which does cutting edge biophysics research focusing on single molecule techniques. It was wonderful that I got to choose my own work, and could set my own pace. I got a wonderful friend and mentor in Matthew Poyton, a senior Post-Doc from the lab, who patiently guided me in every stage. I worked on histone dimer exchange and needed to learn Total Internal Reflection Fluorescence microscopy. TIRF isn't the easiest of techniques for even the well-trained researchers. From setting up the
instrument to collecting data, I found it an absolutely amazing instrument to probe into the single molecule level of matter.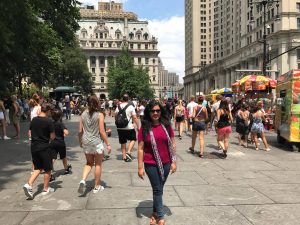 All the people in the lab were very receptive and forthcoming in their suggestions, advice and inputs, which surely enriched my experience in the lab. There was diverse work going on in the lab, ranging from Nanopore devices to Chromatin Biophysics. Interaction with peers, seniors and other professors and visiting scientists opened up avenues to explore a vast repertoire of knowledge.
One of the most heartening experiences was the Bose-Khorana orientation program held in the beautiful city of Madison, in Wisconsin. With temperatures hovering well below 10 degree Celsius, all of us bundled up and bonded with each other. The excitement of my fellow interns was contagious as we were warmly welcomed into the prestigious Khorana-Bose Family.
Besides, the regular lab life, this summer internship paved my way to explore some of the most amazing places in the world. Baltimore being a city on the Easy Coast has affordable and easy access to cities like Washington D.C and New York. I visited DC and was struck by the sheer opulence of the buildings which reflected the power of political capital of the world. I had been dying to visit New York, from the time I had seen 'Castle' and 'Suits' and was floored when I did.
The sight of Liberty Statue as I cruised on a boat under the Brooklyn Bridge on an idyllic weekend- makes my heart flutter even now. In one of the most breathtaking journeys of my life, I visited the Niagara Falls. I cannot put into the words the beauty, the magnitude and force it exuded- made me one with the fathomless and bountiful beauty of Nature.
The internship was a lot more than just work. While I worked hard and got some seriously interesting results, I also got to explore so many unique things. From Korean buffet to American breakfasts, long walks by the harbor to canoeing in lakes, I came out of a secure well and lived vivaciously. Shopping, exploring, eating, cooking (yes, staying in the States for more than 2 months taught me that)- everything in those few weeks made me realize how a summer internship can change your life. It made me more open-minded and receptive as a person, ready to imbibe new culture, make friends and make the best out of available resources.
For those of you willing to undertake this internship, some helpful points:
1) Try to keep in touch with the concerned departments which issue the DS forms for your visa. The faster you receive your documents, greater are your chances of a hassle free visa issue process.
2) Find Khorana-Bose Scholars in the city you are going. They are excellent point of contacts and guides for a new place.
3) Carry warm clothes (at least a pair) and umbrella. Although it's summer time, but the temperatures can drop well below average winter temperature in India.
4) The Indian Graduate Students Association of the respective universities serve as excellent sources for housing and other relevant information.
5) Do not venture alone at night, especially in cities like Baltimore, which are infamous for mugging and stabbing.
6) Do not carry large amounts of cash or any other valuables. Keep copies of important documents like passport, DS form and SEVIS handy.