Of all the places I wished to go outside India, never expected United States of America to be my first abroad destination. And I couldn't have waited long before I would start my trip to the US immediately after completing sophomore year in Undergraduate school.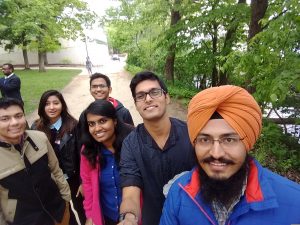 My internship in the US was with the Joshua Robinson group at Pennsylvania State University which is one of the best-known groups for their work on Two Dimensional materials and devices. Penn State University located in a small city called State College, which doesn't brag with the mighty and huge skyscrapers of New York or Philadelphia but it didn't lag much behind in terms of the American culture and the academic environment. Considered as one of the best places of completing your grad school in the US, State College has an awful lot of restaurants with a choice from a wide range of cuisines. An absolute bliss for a foodie like me!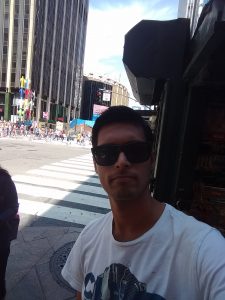 Though, I am not such a "touring and exploring" kind of guy, during my 10 weeks in the US, I had the chance of visiting Madison, Pittsburgh and the dream city of New York. Amazing time with the other Bose scholars that were with me during the orientation camp at Madison where I was picked upon for the entire three days, for being the only scholar among the 80 people who was still a teenager (I was 19 years old then). But being 19 years old didn't matter as there was no better way to turn 20 than to be in New York City. I also went to one of the largest amusement parks in the world at Pittsburgh with other Bose scholars who were interning there. Though all of this were short-lasting trips, I cherished each and every moment of it.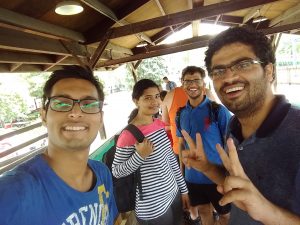 My research experience was amazing. Because being a undergrad student who had just completed his sophomore year, I had necessarily negligible exposure to the cutting edge technologies out there. My work was basically the synthesis of 2D materials for which I used high temperature furnaces. To characterize them, I had to learn Scanning Electron Microscopy, Atomic force microscopy and Raman spectroscopy. I was guided Natalie Briggs, a grad student at Penn State University, who helped me with everything during the whole time I was there in the US. The Robinson research group was wonderful and so friendly that it made me changed my previous notion that doing research is not fun. The group was amazing and I made a lot of friends, especially an undergrad student Ana who was working in the same lab as me.
Summing it all up, Summers of 2017 have been an delight which was not only a magnificient learning experience but also one that I would remember for all the years to come. I have still two years of my undergrad life to decide whether I have to choose the "research" path or not but definitely, this internship will help me making the right decision.