I am a Master's student of Madurai Kamaraj University, an ordinary student with a desire to walk on the difficult road of life to reach the finest destination. In the evening of 16th January I was reluctantly traveling from Kolkata (native place) to Madurai to attend the classes of second semester. One mail-notification blinked on my phone-screen, mail from "Scholar Scholar@indousstf.org, Dear Bibrita, I am pleased to inform you that you have been provisionally short-listed for the prestigious Khorana Program for Scholars 2017." It took few minutes to realize that I had been selected to the program for which I had applied in November, 2016 without any expectation of getting selected. When I gathered all the information I found that the stipend $2500 is quite standard to spend 3 months in the U.S. Hence, the preparation had begun for the journey…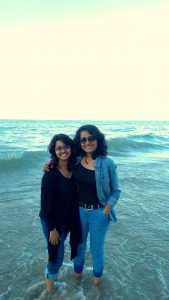 All the official works for visa went smoothly with prompt help of Indo-US Science and Technology Forum and Winstep Forward. After a 35 hours of journey with 3 layovers I reached Cincinnati. It is a city in the U.S. state of Ohio, situated on the north bank of the Ohio River in Hamilton County. I visited all the tourist spots and felt that the 'queen city' has a calm and hospitable environment which was really heart-warming. I enjoyed the visits to Newport and Cincinnati Zoo. The Cincinnati Zoo and Botanical Garden is the second-oldest zoo (1875) in the United States. It's beautifully green and well maintained zoo with large number of animal exhibits. It is an exciting place to visit for children and animal lover as the zoo host numerous animal encounter shows throughout the day.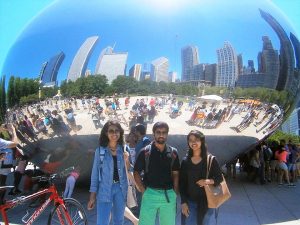 My lab was in cardiovascular and lung department of University of Cincinnati College of Medicine. I was fortunate enough to experience a friendly lab environment. My mentor Dr. Sakthivel Sadayappan was supportive and assigned me the project "DEVELOPING AN EFFICIENT CARDIOMYOCYTE-SPECIFIC EXPRESSION TOOL FOR GENE THERAPY: MYBPC3 PROMOTER" but I realized that each step of the work had to be standardized first. My co-guide provided me day to day guidance. For first time I experienced difficulties to work on a project as independent researcher. I interacted with people in other labs and institutions and performed each experiment multiple times to optimize the protocol. I was initially upset with the results but I started enjoying my work when I was able to troubleshoot the problems. Other than the molecular biology techniques I learnt to use bioinformatic tools to find the promoter region of a gene and predicting minimal promoter sequence from the data. I performed transfection of cardiac specific cell lines and reporter gene expression assays for numerous times which helped me to be proficient for performing these experiments.
Being a youngest member in an Indian (Bengali) family I was unmindful about difficult life situations. These 3 months in the United States not only gave me a good research exposure, it aid to build my personality and improve my poise. I met people from different backgrounds and cultures and realized how we all are similar. This life-changing experience gave me an insight to look into things from different perspectives that will help me to grow as a better individual.