It was like a dream come true, when I got opportunity of US internship from IUSSTF and WinStep Forward. I was wondering to pursue my Masters from US University as most of my batch mates went for MS in America or Canada with RA. I also had good CV and good score in competitive exams, it would have been easy for me to get into US University. But, my parents does not want to send me away from home country for a long time. Fortunately, I got selected for Khorona Program, which gave me exposure to US lab. I was excited when I got email from IUSSTF. But, it was hectic in next week searching US mentor, getting visa and all other formalities. I was under huge pressure a week before going to US as I had to bind up the running research in lab at parent institute.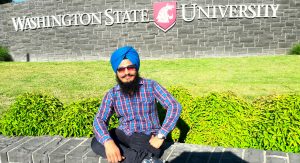 First international flight gave me amazing experience. I was feeling fabulous, when I stepped down to US land. I was fortunate to get into Plant Pathology department of Washington State University, Pullman WA, under guidance of Dr Hanu R Pappu. My lab mates and mentor are amazing persons. My mentor cared me like my parents and all lab was like family. A PhD scholar Christin helped me to get through all formalities of department and international cell. My apartment was gifted by my mentor within university campus. Housing was great with all stuff in drawing room, bedroom and well-furnished kitchen with all wares and cooking facilities.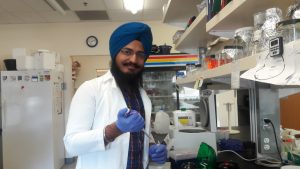 My mentor offered me to work on a project of a postdoc as his project shared the common techniques wit h my MSc project. I worked with that humble person Dr. Aflaq Hamid. It was a wonderful project of studying protein-protein interaction of rgsCam gene of potato with HC Pro of PVY virus. First relative expression of rgsCam gene of potato in healthy and infected with PVY virus was known by quantitative PCR. Further protein-protein interaction was studied by Y2H system and BiFC assay. I use to be in lab for whole day and in evening go to Recreation centre. Rec centre in WSU was equipped with different sports, indoor games, swimming pool, running track and a good gym. It was wonderful time spent in Rec Centre every evening. We had a lot of fun on weekends, I use to hang out with lab mates or Indian students to nearby places.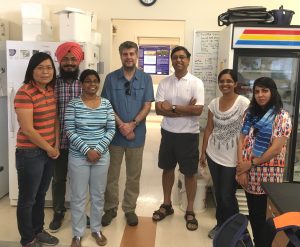 We use to go to lakes, waterfalls, and parks. My visit to Potato Field Day was great where I met scientific staff from 3 universities, farmers and industrial professionals. I interacted with them during question section and learnt a lot. Another important thing is that I learnt to cook different dishes. Earlier, I was comfortable in just making tea or coffee. But, now I am good at cooking different food items, which I learnt from Indian students staying there. Overall, this summer internship will be the most memorable time and an enriching journey of my life.