It was one of the ordinary afternoons in the month of January, when I was having a discussion with my masters guide, Dr. Bhargava B.L. We were preparing a to-do list, when a ping in my cell phone changed the evening to extraordinary. Behind the ping was a feeling of immense happiness and a once-in-lifetime chance, masquerading as an email from bose@indousstf.org, which read that I have been provisionally selected for SN Bose Scholars Program. I remember keeping the cell phone in my  pocket to continue the conversation, but probably by studying my facial expression, my guide asked me the matter. I took the cell phone out of my pocket (yes, I dared it that day in front of my guide) and showed him the email, to which he congratulated. I consider myself very fortunate to be considered by Prof. Qiang Cui, Boston University, as his student for this summer. He partially funded my stay, besides being paid by SN Bose Scholars Program. The visa process, however, was not quite smooth since I was stuck in the administrative process. The waiting period of 221(g) seemed endless and frustrating, with fear of losing my chance of academic visit to USA. Despite the 221(g) shortening the duration of the project by a month, I was happy and am thankful to both my guide and SN Bose Scholars Program for considering me for six-week project. I left for Boston the second day after my visa arrived, and was lucky to be accompanied by Subham Bhuiyan, another SN Bose Scholar, up to my second layover at Frankfurt.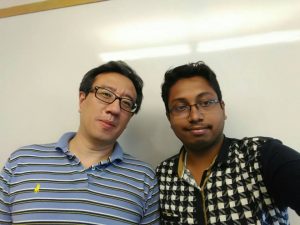 "In Boston they ask, how much does he know?" ― Mark Twain
At Boston University, we worked to understand how nanoparticles and lipid bilayers interact, using all atom molecular dynamics simulation. Though I have worked in computational chemistry throughout my integrated masters, this was the first experience with both biomolecules and nanoparticles. Besides my guide, one of the postdoctoral fellows at our group, Mesele Oluwaseun, helped me throughout the project. We used NAMD to simulate the systems, and have used various tools including VMD and GROMACS for analysing the trajectory. For some cases, we had to write our own codes in python for analysis purposes.
Boston is considered as one of the educational hubs of USA, with a lot of educational institutions which are considered to be outstanding in their respective fields. This includes MIT (Massachusetts Institute of Technology), Harvard University, BU (Boston University), BC (Boston College), Tufts Medical College and Berklee College of Music, just to name a few. Boston has also played a major role in the independence of USA, out of which the Boston Tea Party is a major incident. These events led to a lot of various museums and monuments in Boston, which kept me too busy during the weekends from stepping out of Boston, except a short visit to one of the ex-students of NISER at Worcester, a place 50 miles away.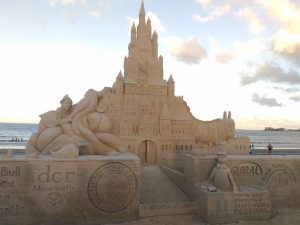 The first weekend saw me visit the Science Museum and the Boston Harbour, accompanied by friends. I took the T, which is another name for the subway in Boston, for the first time. The ticket prices seemed quite weird at first, since it was a flat fare system as opposed to the general distance-based system. In the science museum, a demonstration of the Tesla coil and Faraday cage made me believe in their existence in reality and not as a video effect. (I am a bit skeptical about science, and there are well proven scientific theories that I still do not believe in.) The Boston Harbour felt like a synonym for the word beauty, with the large blue Atlantic Ocean supporting the feeling.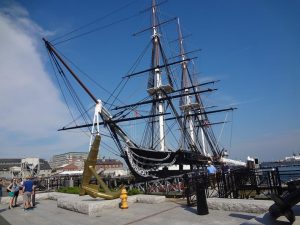 The other weekends at Boston saw me visiting the institutes like MIT, Harvard University and Berklee College of Music, and other famous places like the Old North Church, Quincy Market, Boston Commons, and many more. The most fascinating place I visited during my stay was the USS Constitution, which is a eighteenth century hulled ship and the oldest ship afloat. The USS Cassin Young, a comparatively modern warship, was also open for public visit. Needless to say, the knowledge-thirsty me learnt about the ships used in second world war by a visit to the same. The Museum of Fine Arts (MFA) had a lot of artifacts of various era, which were fascinating. However, the most beautiful pieces of art in Boston were probably present under the sky at the Revere Beach, which were built as a part of a sand sculpture festival.
It is difficult to express the experience of visiting Boston in words, let alone the length of the text. In a nutshell, the SN Bose Scholarship was my first visit to a foreign country. From the academic point of view, this summer project gave me a flavour of the work culture in the USA as well as a subsection of computational chemistry, which will help me shape my future plans and shape my career. From a personal point of view, I had a mixed feeling while boarding my flight back to India, when I missed Boston but was equally excited to see my own country, India. I would like to thank my guide Prof. Q. Cui, who is probably one of the most wonderful persons I have ever met. Besides, I am grateful to my parents and my institute, NISER Bhubaneswar, for shaping me; and to IUSSTF, DST, INSERB, Winstep Forward and other agencies for giving me this opportunity to work as an  SN Bose Scholar and for partially funding my stay.