Never did I ever have such an enriching experience throughout my life as the one I had during this fellowship. The states have always fascinated me and I have been to the US before but barely did I realize until the time I was privileged to be a part of this scholarship, what pride means and what life means.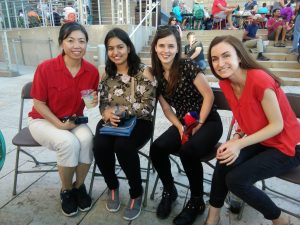 Visiting the states to hangout and visiting to work in the UniteD States are two diametrically opposite dynamics. Working in the lab I had to shoulder responsibilities, as well as being expected to be accountable and prove myself worthy of the prestigious title of a Khorana researcher.
All in all, it was a herculean task for me to be all by myself from buying groceries to cooking food to acquiring skills I wasn't taught back at college, to improving my lab skills, all of which refined my personality. I got a glimpse of the life I was going to live in the future, what it feels like to work in an official setup, corporate ethics and professionalism, skills that I would never have learned if I had not received this opportunity.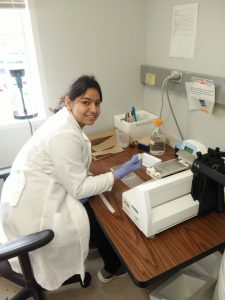 The research aspect was by far the most interesting and enlightening experience. I was stunned and a little amazed as the working environment was quite above the standards I set up for myself, but simultaneously everyone was chilled and took things lightly. I was given a time frame, but was never forced to speed things up. Everyone was comfortable with my pace of work, though I strived to meet deadlines. The coolest part was that everybody was so kind and affable, making the most formal spaces feel so informal and home-like.  I had a little paranoia about Americans, but Madison drastically altered my perception as everybody turned out to be very helpful, kind and encouraging and affable.
The lab was an enriching exposure to the advancements in the field of neurosciences. I learnt about myriad number of new breakthroughs in the fields of Neurosciences. I also got accustomed to the various novel techniques related to research and acquired new skills to familiarize myself with the complexities of gene related subjects.
I further went on to grasp the nuances of the fundamentals and advanced elements by reading extensively and partaking extended research work. In a nutshell the lab made an addition of information in copious amounts to my knowledge bank and made me competent and eligible for undertaking further research activities by unleashing my hidden potential. I am grateful to my mentor Dr. Xinyu Zhao and to my entire lab mates for helping and encouraging me throughout the period.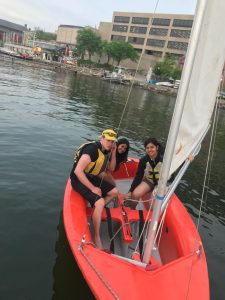 Now talking about living in Madison; blue skies green grass and endless adventures satiated my insatiable hunger for a perfect journey, for Madison is the city like no other. For the love of the chartreuse, for the love of the turquoise and all, Madison captures you heart in no time with its enticing beauty that seduces you deftly and you fall in love. No matter what many cities you've wandered or places you've been, Madison Is enchanting.
The warmer weather brings everyone outdoors for perennial activities like sailing, sky diving, biking and hiking tours. There are calendars full of events providing exciting opportunities and inspiring itineraries for every interest. It's an attractive and must-visit destination for the young and the old alike. I really wish to go back to Madison again with my friends and family.
In the end I would like to thank DBT, IUSSTF & Winstep Forward for considering me worthy for this prestigious fellowship. The Khorana fellowship has been a life changing opportunity for me. I would encourage and recommend all aspirants to avail this wonderful opportunity. Apart from scientific knowledge and indispensable research skills it taught me valuable life lessons within a very short span.
It taught me how to accommodate with people coming from diverse backgrounds, how to make friends under given circumstances, how to mingle with new people, self-dependency and the list goes on and on. To put a rest to my words, it changed my life and I strongly believe will certainly change yours as well.