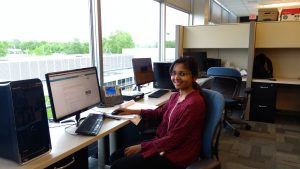 Ann Arbor is a beautiful University town, with one of the most serene environments to study and conduct Research, away from the hustles of the city. It's green and not just [0 255 0] green,so many distinct shades showing what Nature is capable of. Its full of trails to go trekking on, or just walking while contemplating about life.The people of Ann Arbor give an aura of friendliness and are ever ready to go out of their way to help you with things. The town is so radiant that even wandering in the streets pleases the mind.It won't offer skyscrapers and shopping malls, but trust me you won't want those things after spending a week there. The sun sets late so its bright for most part of the day and sunsets are beautiful.And being a UMich Intern is a perk because a ride in very comfortable buses to almost all the common routes of the city is just at the expense of
an ID swipe.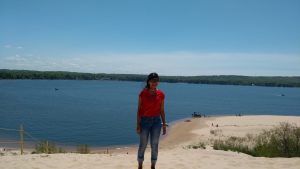 There are many places I went to and fell in love with Nature, Matthei Botanical Gardens and Nichols Arboretum: surrounded by just trees and flowers and birds and water, Saugatuck Sand Dunes and Silver Lake State park: The cleanest and shimmering lake I've ever seen, you just won't feel like coming back, UMich Museum of Natural History:God! Such a fun place to be at with a feel of "One night at the Museum", The Henry Ford Museum: Awesome learning experience about everything during the Industrial Revolution , Cars, Steam Engines, Trains, Machines and what not, things that you should definitely know about the technical History, Mackinac Island:Trust me you never knew something like this existed, cycling along a beautiful lake in a beautiful city is something that fills your soul's appetite, Tahquamenon Falls: Waterfalls are admirable, needless to say but this one is special, you can look for yourself and have a hard time proving me wrong, Pictured Rock National Lakeshore:No words to express the feeling of being surrounded by water standing on rooftop of a ship and exploring the natural colors, patterns and shapes of rocks along the lake shore, Dark Sky International Park:Waiting for Northern Stars to show up at 2 am in the night on the shore of a lake witnessing the bewitching effect of moonlight on water is an unforgettable experience. Fun things to do in Ann Arbor are Kayaking, Trekking or just walking on a trail with friends, Laser Tag, Camping, Sky gazing, Barbecuing, Picnics etc.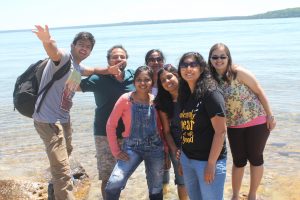 I am not much of a foodie, but I know for sure there are a lot of good places to get food and try various cuisines, you just got to know the right people and the rest will follow. I had Italian food at some restaurant near Briarwood Mall, and Pizzas and Burgers from a few places, and they were all good.
Talking about my Research experience, it progressed gradually at first but with time when I understood things more and more and it came with ease and all the more interesting.I learnt to utilize software to deal with loads of Data easily and had an opportunity to conduct research on Epilepsy, one of the most common disease affecting millions of people around the world.It was a good learning experience and I have a Poster for a conference on Epilepsy already underway.
My overall experience at Ann Arbor was satisfying both on a personal and professional level, and I happened to adopt the philosophy of "Work Hard Party Hard" . It taught me that, it's when you are put in a totally unfamiliar environment, you realize how much can you manage on your own.You take responsibility for yourself, manage expenses, plan things and overall learn so much from so many things and the new people you meet, who may not share the same culture as you but teach you lessons for life. It's a journey worth taking as a Student.