10 weeks and yet it feels like it was just yesterday that I landed in Chicago with dreams of the summer of a lifetime. An internship in the US. Who hasn't ever fantasized that?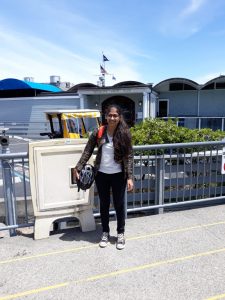 It started out with a 16 hour long flight from Mumbai to New York; most of which I spent sleeping of course; and I was in the States. Fast forward to Chicago for the S.N. Bose and Khorana Scholars Orientation which was well organised and executed flawlessly in association with the University of Chicago. Spending a weekend in Chicago just before the start of an internship was a fantastic way to lay the first stones for an amazing summer adventure. I remember walking through Millenium Park, staring at the funny reflections under the Chicago bean and of course, my first thick slice of Chicago's special deep dish pizza. A promenade along the Magnificent Mile was well worth trudging through the city in the rains, entering stores for the welcome warmth they provide; no wonder it's called the Windy City. If I had to choose, I'd say that the Barnes and Noble was by far my favorite and I spent well over an hour exploring it and looking at all my favorite books stacked up neatly.
The flight to Sacramento was as lovely as it could get and while I got to look down upon the American continent going from the east to the west, getting a great view of all kinds of terrains, I was eager and impatient to reach Davis – my home for the next few weeks. Rounding up all my things, I headed onto Davis, to which it was a pleasant ride from the airport. A university town, Davis is a quaint place with some bucolic aspects. Located in Yolo County of California, it is flanked by freeways all around but maintains its pristine culture of being a farming community, with the occasional visit by a turkey at your doorstep. Mostly populated by the students and families of the University of California at Davis, it is a bicyclist's paradise, being home to the United States Bicycling Hall of Fame and many Bike Clubs. The university campus spans over a large space with the downtown area of Davis adjacent to it. Biking around Davis in the evenings is a delight with a cool breeze blowing and the little town coming to life with pubs and restaurants bustling with people. I especially enjoyed going to the local pub, The Davis Graduate named in honour of the student community, which conducted Salsa and Country dance events every other night.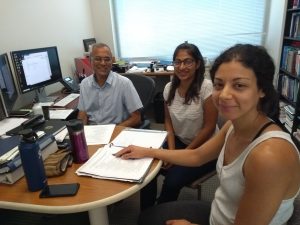 Getting to the purpose of my stay here, the project I worked on was entirely computational and I spent all my working hours either in a computer lab or in the office allotted to me. The workspace was always bustling with PhD and Post Doctoral Scholars and I sometimes got to see their projects or hear tidbits of the happenings around Davis. Over the course of the 10 week project, I got to learn new software and how to select, interpret and compile data from a huge dataset. Dr. Sashi is a brilliant mentor and he guided me patiently throughout the project and I got to help out in the research of one of his PhD scholars, Maha Kenawy. While I was initially skeptical about working on a computational project with no field work, I found that it was just as enjoyable, if not more, and I loved the work.
Coming to California and not making a trip to LA would have been shameful. Over the fourth of July weekend, I took leave for 2 days for travel. The student community of UC Davis runs a ride sharing group on Facebook like most other universities which is a very convenient and cheap means of travel to the major cities in the state. On meeting up with some friends and fellow scholars, I visited the Universal Studios in Los Angeles and drove down to Las Vegas for the weekend. I did have to get used to driving on the wrong (or should I say "right") side of the road. Independence in all respects is something I learnt during this trip. For a person coming from India where we have people employer at every place to help us out, my friends and I learnt how to operate a gas station in the US. Driving to and from Vegas was a wonderful experience on its own and I can now say that I have covered more miles driving in America than in India. Heading back to Davis after a fun road trip, I was able to catch the Independence Day celebrations in town. The active patriotism in the locals dressed in red, blue and white reinforced my love for my own country and brought to me a sense of nostalgia as I sat among the townspeople and watched the beautiful fireworks. On the road and off, independently living on my own was an experience on its own, with the suspense of whether what I cook will be an exquisite meal or a disaster. Thankfully, I learnt a few items off the American cuisine and can now make incredible pancakes…..wait till you try them out. But one thing is for sure, I definitely missed the spicy food from India.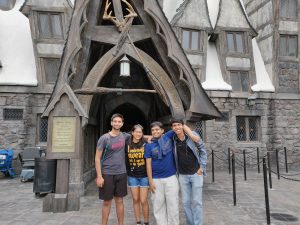 A few weekend trips to San Francisco and Berkeley here and there were marvelous, thanks to the two cities being just an hour's drive away. On one such trip I biked across the Golden Gate Bridge and ferried back with fellow Bose Scholar Sishir who was working at UCD's sister campus University of California, Berkeley. On the second trip, I travelled with my roommate and fellow Khorana Scholar, Shivranjani and we traipsed around the Bay Area like tourists, stopping at the noteworthy sites of the GGB and Fisherman's Wharf, Lombard Street (the most crooked street) and the Chinatown of San Francisco. We enjoyed sitting in on the pier, indulging in the local delicacy of clam chowder served in a sourdough bread bowl and fish and chips, not to mention the ice cream we shared at the Ghirardelli square.
As my stay in the US came to an end, I was already too comfortable with the place and was torn between wanting to stay longer and returning back to India. Weekly trips to Trader Joe's, getting familiar with the staff there, biking around campus and downtown Davis or just spending an afternoon at the lovely Davis Arboretum watching ducks paddling in the Putah Creek that passes through it are some of the things I'm going to really miss. I fell in love with the quiet and dainty life of a small town and hope that I can return to California in the near future.