I remember the exact moment when I had received an acceptance mail for this program. The confusion and disbelief followed by unprecedented joy is something that I would never forget. After around a month of waiting in anticipation, I had set off to Chicago looking forward to a new adventure; excited, nervous but determined to make the most of it. Since my first day, I was surrounded by people so welcoming and helping that I never really faced the cultural shock that I was expecting. I had reached Chicago in a bit of a jet lagged daze, but the next evening when I went to the lake shore, I was mesmerized by the clear turquoise water, beautiful view of downtown skyline and how beautiful and pristine that place was in general.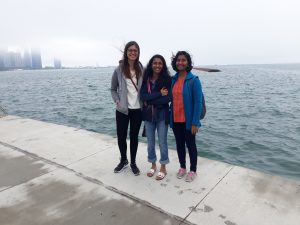 The thing I loved the most about the city was the people and just how willing they were to help others. I, with an awful sense of direction, often lost my way walking around and people would go out of their way to help me from sometimes walking me to the place to giving me a printout of map and marking my path out. Everyone in the University was so kind and welcoming that I never once felt like I was a short term summer student. Another thing I found extremely captivating was the architecture of Chicago, from gothic buildings in the university campus to huge glass buildings that reflected the green and blue of river, everything was beautiful and awe inspiring.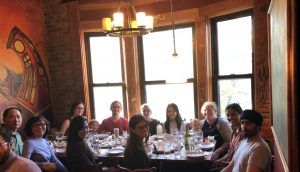 Summer of 2018 has definitely been one of the most interesting times of yet as far as food is concerned. I along with other people from the same program explored many culinary joints together, the most memorable being the Giodarnos deep dish pizza and the Nutella Café. I explored much of the city from Museums to Skydeck with the same people who had become an essential part of life, them being my home away from home. One of the best experiences I had in Chicago was the River architecture tour. It was enchanting to sail between the buildings, both old and new. It seemed almost as if we were watching the history of the city unfurl before our eyes. Another memorable experience was the breathtaking view from 104th floor of Willis Tower.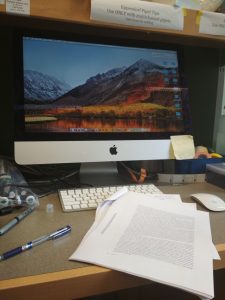 When I had entered the lab on my first day, I was extremely intimidated and afraid of messing up as this was my first research experience. But the members of my lab proved to be extremely warm and friendly. From patiently answering all of my questions to teaching me various techniques I required to do my project, all of them went out of their way to help me. I am very grateful that I was able to work between these extremely intelligent, focused and hardworking people and learn from them. The experience proved to be so much more informative and enjoyable than I had expected. The concept of collaborative interdisciplinary research which I got to see at University of Chicago quite refreshing and it has significantly broadened my horizons and what I also believe to be my career prospects.
One of the best parts about my project was since it involved both Microbiology and Immunology I got to work between two labs which increased my opportunities to learn more. Among many other things I learned how to culture Bone Marrow Derived Macrophages, IF microscopy and development of an analysis pipeline.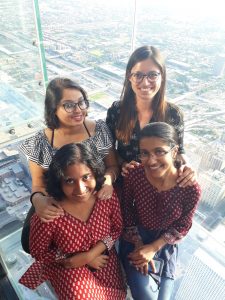 However, one of my most important learning in lab was persistence and patience. Since I had never worked on a research project alone, I was not used to failed experiments and trouble shooting. Initially it was extremely frustrating and disheartening for me to see a failed experiment. But with the help of my lab members, I was able to realize that it is the excitement and joy when you figure out what to do next is what that makes up for frustration. They helped me develop the thinking for problem solving and critical thinking which proved to be valuable tools in helping me finish my project.