That day was not less than a dream when a mail stating that you are provisionally short listed for Khorana program for scholars had been received by me while I was in the movie hall with my friends. At that moment a spark of happiness, excitement as well as nervousness grabbed my mind. Although I have studied in English medium schools from my childhood days but still the nervousness forced me to look for the meaning of provisional selection just to ascertain the received mail. At earliest, I dialled at my home and told everyone about the provisional short-listing which makes them happy as well being aware of my preparation effort for this program. When I reached back to the hostel with selection mail, I fell overjoyed and can't explain that moment full of emotions. Because of that excitement, I was not able to sleep for the entire night.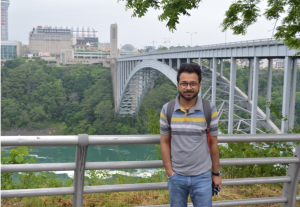 All joy and happiness now turned to anxiety because the real herculean task to find out 3 mentors in any US university who can accept me as a summer research fellow in their lab has to begun now. The time difference between India and United States made process very tiring and tedious. To cope up with this situation seriously, every night an alarm had been adjusted by me that to of every 2 hours just to have a look at reply from any mentor. For 1-2 days, no favorable reply had been received but after that many replies stating that they don't have any fellow position at their lab started to pour in. Such rejections were very meaningful to me as it comes from the one who have done pioneering work in the field of biology. Finally, my good time had started and acceptance replies from 5-6 professors had been received that too from University of Wisconsin-Madison, Yale University, and some more. But the most awaited moment was about to come!!!. Ohh it had come in the form of positive response from Dr. Rajini Rao, Professor of Physiology, Johns Hopkins School of Medicine who showed her kind interest in my application. To study and learn at Hopkins was indeed a dream for me and to work along world renowned scientists, it's like dream come true because it is one of the best and leading research universities in the world.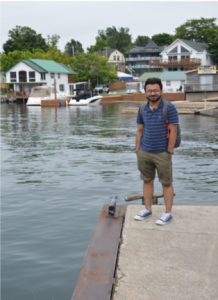 Dr. Rao has helped me in each and every issue there from documentation to accommodation and from discussing things to report correction. She was very optimistic and kept motivating me throughout my work. She made me realise that it is the effort which is more important than the result. Each and every lab meeting was a best experience for me. In Dr. Rao's lab, I never felt like an outsider or somewhere out from my home because of the positive atmosphere of the lab.
It's my pleasure to get a chance to work in Dr. Rao lab. Once again, thank you so much Dr. Rao and her team who had accepted me as lab member. I would also like to extend my thanks to Dr. Makena who assisted me throughout my project work. In Dr. Rao's lab I have experienced the real charm of Biology & learnt many cutting edge technologies.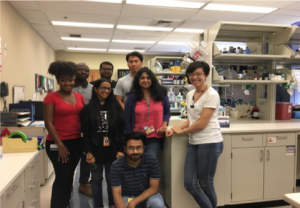 Apart from lab, the overall experience in terms of tourism adventure was also very good. It's a lifelong and dream experience that I have been to Time square's (New York), Washington DC, Baltimore, Niagara Falls, Thousand islands and many more places. The most important thing that I have learnt from these experiences is that how to manage things on your own and how to survive when you are alone and no one is there for solving your issues. From Extra cheese pasta to Chicken and from Dal to Rice everything have been learnt by me in terms of cooking that too in delicious way.
Now it's time to talk about a wonderful roommate (Asheesh) that onecould ever get when you are away from your home .Mr. Asheesh Maheshwari without whom this experience would not be that much lively. He was always ready for everything from late night walks to night outs and from free food to Hopkins cup stories.
Last but not the least high thanks to IUSSTF, Winstep Forward and DBT, Government of India for this life changing experience. I am very sure that without Khorana program this experience would not be possible. Hope to visit States again for my grad school.