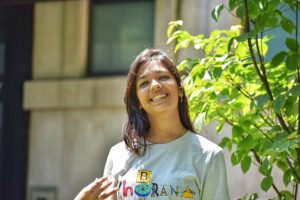 It was during my first year of the master's course that I first heard about the Khorana program through a friend. I had had plans of pursuing a PhD in the United States; here was a golden opportunity for me to experience the pedagogy and work in one of the top universities in the world. I applied and got through! It was an ecstatic feeling to have been selected in what is one of the most competitive and most prestigious research programs that provides a crucial stepping stone for the aspiring scientists.
The University of Chicago, one of the top universities of US was my destination for this summer. The visa process took longer than I anticipated and as a result I couldn't make it there for the orientation. I reached two weeks later and was able to secure a good accommodation with the help of a fellow Bose scholar. It took a couple of days for the jet lag to wear off. Once I settled in, it was easy to catch up the daily lab routine. My first day in the lab is still crystal clear to recall. I was so pleased to meet Prof. Y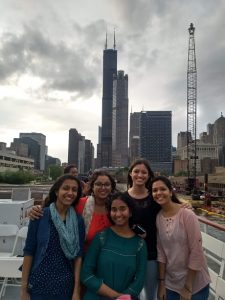 amuna Krishnan who hosted me in her lab and told me why she needed a microbiologist like me in her lab for a new project. (Short introduction to my host; Prof. Yamuna Krishnan is the professor in the Department of Chemistry in University of Chicago and she is also the 2017 Infosys Prize winner!). That day while talking to my Professor, I realized how science cannot be divided into various fields and a good science comes from the integrated approach towards solving a problem. So, despite having a biological background, I worked in a Chemistry lab and made the best of it by integrating both resources.
Our lab mainly works on making DNA devised nano sensors. But being a student of microbiology, I was supposed to work on diverse bacteria and label them to study host pathogen interactions. The work atmosphere was rigorous but at the same time had no pressure on me. I was always encouraged to develop new ideas and troubleshoot my problems. My lab mates were all very helpful and suggested me beneficial inputs regarding my work. We used to talk about the major ongoing research in different fields of science during our lunch and coffee breaks. It was a pleasant routine and I adapted to it pretty quickly. I had an exposure to the top-notch imaging facilities at UChicago that enhanced my love for imaging cells with the best confocal microscopes. I also had hands on synthetic chemistry for labelling the bacteria with an efficient probe. Apart from the well-equipped labs, the University campus is a beautiful blend of gray stone and ivy-covered traditional English Gothic quadrangles juxtaposed with soaring contemporary structures and an expansive lake view. The highlight of the day used to be a long, evening walk along the lakefront. As jam packed with work were the weekdays, the weekends were my getaways to explorations.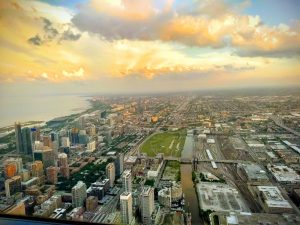 Chicago- the windy city, the birthplace of skyscrapers, the city of music and fun had far more to offer than my expectations. Lying on Lake Michigan the city is a blend of culture, fine architecture and breathtaking views. The vastness of the city will implore you to explore it as much as you can. Chicago has an excellent transit service which makes travelling within the city a breeze. From the 100-year-old Gothic Towers, to some of the tallest modern-day skyscrapers, Chicago is where old meets futuristic architectural endeavors and along with fellow scholars, I took a river architecture tour to view these marvels that line the beautiful river. North of the Chicago downtown, I visited the Lincoln Park Zoo and Navy Pier which is the most popular attraction in the city. Watching the entire city with sunset in the backdrop from the top of the Ferris wheel was one of the best experience at the pier. The Cloud Gate at Millennium Park, the largest dinosaur fossil at Field museum and the dolphin show at Shedd aquarium were other attractions that amazed me.  The Art Institute of Chicago is a major historical place that I visited during my last days in the city and for an art lover like me, that place was a boon. The most breathtaking however, was looking down from 1353 feet above ground at the sky ledge in Willis tower. I also got a chance to experience a live music concert (the first of my life!) along with my lab mates.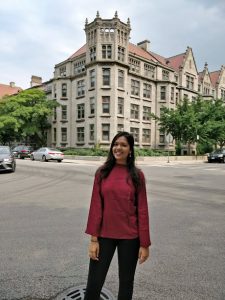 The famous deep-dish pizzas and the caramel Garret popcorns were a treat to my taste buds. Along with this I also learned to cook myself some quick dishes and bake brownies and apple pies with my friends from lab. It was really a fun time with the Summer grad students and fellow Khorana-Bose scholars. We also explored Madison and the unparalleled beauty of its lakesides. New York had been the top city in my bucket list. No words would be enough to express the joy that I felt visiting NYC and Niagara Falls. It was an experience of a lifetime to simply stand at Times Square and feel the moment that I had always dreamt of. Niagara on the other hand is a nature's miracle and we had the best time in the ferry ride (Maid of the Mist!) that took us right beneath the falls. One weekend I also visited my uncle. It was so homely as they made me all the Indian dishes that I had been craving to eat and took me around with their kids for shopping and movie.
In the final weeks of the internship, my lab had an Undergrad Symposium where all the summer interns shared their project work and ideas. It was an enriching discussion with my mentor and graduate lab mates. The project got me so inclined towards metabolic labeling that I wish I could contribute more towards it. But 6 weeks just flew by in this roller coaster trip and it was already time to return. Along with the goodbye blues, I felt an urge to come back. My first solo trip in a far-off country was an overwhelming, enriching and life changing experience. It made me more independent and opened a myriad of horizons for my future endeavors.  Such scholarships are a blessing for students and I'm very grateful I got this opportunity!