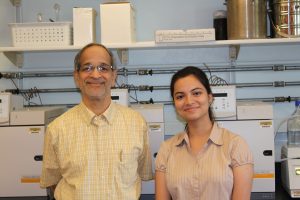 It was January 8th, 2019 when it all started. In the evening, sitting with my bed-table in my hostel, I checked my e-mails and found that I have been provisionally shortlisted for the 'S.N. Bose Scholars Program'. I was as excited as I was anxious to find out if there are more steps to be taken, or if I was actually done with the selection process. Keeping all this aside for a moment, I focused just on my over-bursting joy and a proud feeling that I am actually getting a chance to intern in the USA. I shortly shared this great news with my family and my best friends. After acceptance, I had to successfully pass the hectic procedure of confirming at least three professors to host me, all within a short span of time. Lucky enough to have the support of one of my senior's his help in all this process, I was able to get those three names and I finalized Purdue University as my host University. Doing each step carefully, I finally received my visa, after which I found myself serene. Finally! The real course of this internship started.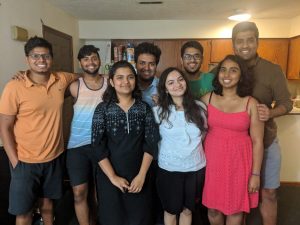 I landed in the USA on June 3rd. Lesser did I know that such a mind-blowing and transformative experience is on my way. I came to my lab and loved every bit of my work there. My supervisor was supportive throughout. We had several discussions related to work, which was the best part for me because teachers' support and attention really boosts me up. My project guide Henry Hamann, a grad student, was also very co-operative. Working in the University having Neil Armstrong as an alumni was a proud feeling for me. Besides, working in a lab where 3 Nobel laureates (Sir Negishi, Suzuki and H.C. Brown) had already worked was already an honour for me. I got a chance to sit on Sir H.C. Brown's couch where he used to do most of his office work sitting on it and got a picture clicked too! 
The only problem I faced in my initial days was having to cook everyday, as being a vegetarian I had fewer options available to dine out, plus no food is healthier than homemade food. As days passed, cooking became more easy and more fun for me.  I also dined out at many restaurants nearby: Panda Express, Qdoba, Egyptian, Chipotle, Raco Tico, Sushi Don (Sweet potato sushi is a must-try!) etc.  How can I forget my savior for Indian food here in the West Lafayette area: "Dakshin".The chhole here are highly recommended by me if one comes here.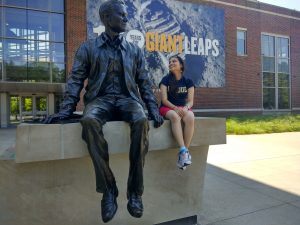 Apart from the work routine, I met many other interns here and many who were already grad students here and made really good friends. Then came the day which is awaited by most of us every year. Being an exceptionally excited person for my birthday, I was really worried deep inside for how it will go this year. But it was one of the best birthday celebrations I ever had and I will cherish that day on 18th July every year. All credit goes to my new friends here who gave me three birthday surprises! The best part of it was the happy faces of my new friends waiting for me in the hall to give me a surprise and to cut the cake . I got emotional and tried my best to hide it! Also I learnt to play 'Catan', which is an interesting game, I must say. Being a shopaholic, I shopped at Von's book shop (has a unique collection and I loved it) Tippecanoe mall, Best Buy, Target and yes, Walmart is everything here!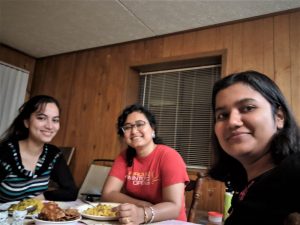 In a nutshell, it was an enriching experience in terms of knowledge, an unforgettable time in terms of getting 'friends for life' and a fairyland sort of place to visit. I am thankful to my supervisor, my guide Henry and all my friends who helped me in many ways. I want to thank the Bose team, WinStep Forward and IUSSTF to make me a part of such prestigious, informative and empowering program. Special mention to the Bose team which was really concerned about all the scholars like me since the start in January till now when I am writing this blog. They kept track of us at each step like a family does for their children. It felt homely to tell them any problem I had to face and they did all the possible things to help. 
To conclude my words, I would say I am carrying back a bunch of beautiful memories. I will always have a smile on my face and a proud feeling each time I will tell anyone about this whole journey. I would like to quote Neil Armstrong's words on first setting foot on the moon in 1969: "That's one small step for man, one giant leap for mankind".
The S.N. Bose Program is actually a 'giant leap' in a student's life in terms of academic learning, research experience and cherish-able memories for life.