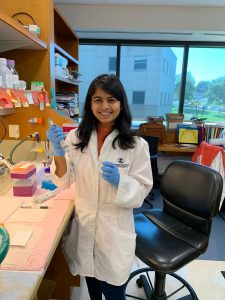 The first time when I heard about the Khorana Program in mid-2018, I had no clue about it. Having a consideration apply for it when the call is open, I become busy in my master's academic schedule. I honestly did not expect to apply for Khorana Program until a beautiful, warm day in Sep 2018 when the white, fluffy clouds in the blue sky were floating away, giving way for pre-winter sunshine and I came to know about the application opening notification for the Khorana Program from one of my friends. Dr. Sharmistha Dey, my advisor at AIIMS, too informed me about the same as I had expressed my interest with her earlier to apply for the Khorana Program. I manage to finish my application process at the second last day of the application closing date (Oct end, 2018). After that, my situation was to seat back and relaxed, fingers crossed.
Moreover, yet, day after day, week after week, month after month, there an email pop-up in my phone saying that I have been provisionally shortlisted for Khorana Program for scholars 2019. I will always remember that due to that email, I become anxious and getting a sweat on that day evening of freezing January. I can't express my feelings in words how much happy and excited I was. I informed my supervisor, and lab mates, all of us were so happy. I must say it was one of the happiest moment of my life. However, the next step was as crucial as I need to find the host mentor at any US university. I wrote emails to many professors, but it was a quagmire. Many of them did not reply, and few said that they are not taking any students at the moment. Those days were full of disappointment like an ill person feels like an island till I got a positive reply from Dr. Kausik Si, associate scientific director at Stowers Institute for Medical Research, Kansas City, MO. It was time for a mesmerizing smile, and he agreed to host me. We decided to start the internship from June first week. Day passes away, and then the day comes, I was all set and excited to start a new journey without any fear of any further obstacle.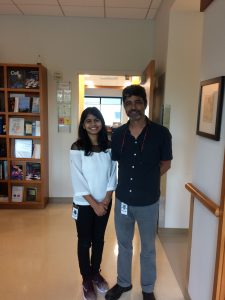 I was nervous as it was my first time I was traveling by airplane and that too abroad. Before arriving to Kansas City, I was aware that I would be staying with Stowers Summer scholars (we all got the accommodation, provided from the institute) so it was kind of easy to settle down. The next day of my arrival in Kansas City, we had our orientation and then I went to Si lab and met Dr. Kausik. His warm welcome in lab and introduction with the other lab members made me very comfortable. We talked about my work in India, and then he told me about the project that I was supposed to work. My mentor, Dr. Zelha Nil, explained the work very precisely and taught me many new techniques and planning my experiments. Zelha wanted me to learn things and not to memories them. She helped me in many ways which is helpful for me to develop a good personal and professional skill. I am so grateful to her.
The lab meetings, journal club, and the Open mic were great sessions for discussions, and I got to know about other people works. I did present a poster of my work in an All-Institute poster session with the other summer scholars. Apart from work another exciting thing was our pre-scheduled trip to see the glimpse of Kansas City. Every Saturday we went to visit places like Worlds of Fun/ Oceans of Fun, a Royals baseball game, Escape room team building, and tours of the Nelson-Atkins Museum of Art, Kansas City Zoo. I must say that I made many new friends in a very short time who always look for me. Few of them are Maria from Mexico, Michay from Argentina, and Olivia from USA. I enjoyed a lot with the other summer scholars.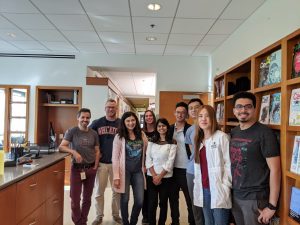 I think I am so overwhelmed with emotions while writing this. I am so thankful to Rishi, who helped me a lot to get through all the procedures for the program. Also, I would like to thank Viraj, Zainab, Raktim, and Zelha these people made my days there. I also want to thank my supervisor, Dr. Sharmistha Dey, for her guidance and support. I am so grateful to the prolific in the room, Dr. Kausik Si, who always boosted me up, guided me, and supported me during my internship days. He is very kind, and one of the best PI anyone could have. His verbatim always used to be that "Shiwani I want you to think more and more" and I am so glad that he actually made me think more. I now believe that I have become a better version of me.
I should not forget to thanks the most important people in my life, my parents whose blessings are always with me. My sincere thanks to IUSSTF, Khorana Scholar Program, and WINStep Forward for giving me this incredible opportunity. This summer at Kansas City was one of the best summers of my life, and I learned a lot and enjoyed every moment.