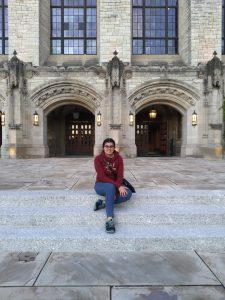 It was a chilly January evening in Delhi. I just came back from my college when an e-mail notification popped up saying that I have been selected for Khorana Scholar Program. I was on cloud nine. I quickly shared the exciting news with my parents, they were very happy and proud of me. I remember I submitted the application a day before the deadline because I was struggling to match the word limit of the write-up so it took me longer than expected to edit it.I never thought that I will be one of the fortunate students who will get a chance to go to the US for an internship. My sincere thanks to IUSSTF, Khorana Scholar Program and WINStep Forward for giving me this incredible opportunity. Since the day I received this email, all that I could think was which University I would be selected in, would I be assigned the lab whose work I'm interested in,how would my mentor be and how I was going manage everything in the US. Hundreds of thoughts started popping in my mind.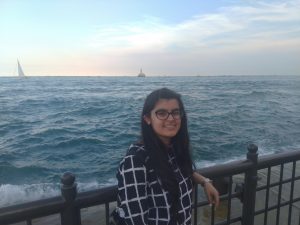 I feel very lucky to be at the prestigious Northwestern University, Evanston, IL and have Dr. William Klein, as my mentor who is a well-known name in the field of Alzheimer's disease. I have always been very interested to work in this field and working in the Klein Lab was like a dream come true. I got a deeper knowledge about this discipline. This was the longest that I was going to stay away from my family and also on my own, "adulting" in a completely different country. I knew that it was going to be an adventure. Surely so, the first day turned out to be a big adventure, it was my first time traveling alone and that too internationally. Everything was going smoothly, I got through all the formalities and security on the airport and boarded my first flight but the flight got delayed and I had only half an hour to catch my next flight at Frankfurt airport which is a huge airport. I ran from one end of the airport to the
other, panting and panicking at the same time and finally made it to the flight in the nick of time. I was the last person to board the flight. FINALLY, after 21 hours of travelling and 3 months of preparation, I was on the land of USA. From my previous conversations with friends and family who have lived in the US, I thought I would feel a huge culture shock but everything fell right into place and I adjusted very quickly. Part of the reason is that internet and social media have brought the world so close  that I didn't feel out of place.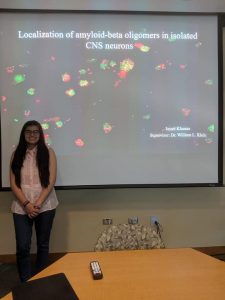 In the lab, it took me about three weeks to actually start my project. I had to complete safety training and read many articles and papers to get in pace with the current findings in the field. One of aspect that I found different from the labs here is the independence that my PI gave me in terms of what project I wanted to work on, designing experiments and analysis of the results. Initially I was anxious as to how I would do everything but it worked out well and I got some interesting results. Everyone in the lab was very helpful and made me feel comfortable. My PI always encouraged and motivated me to think and work like a "scientist". I had worked briefly in research labs before but it was the first time that I was working on a project on my own, I had to standardize the protocol, obtain the results and analyse them on my own (of course with the help of my PI and lab mates). The lab meetings were a great time for discussions and I got to learn what others in the lab were working on.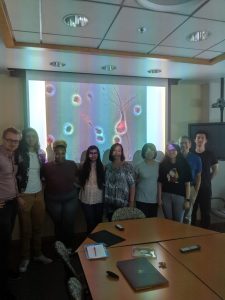 My project was to localize Amyloid-beta Oligomers in isolated CNS neurons using chick as the model. For a month or so I could not get good results so I tried different strategies. My PI boosted me to keep trying. After lots of experiments, I got some good results which was like a ray of hope. In the last few weeks, I worked hard on improving the protocol to get better results and finally, I got some really exciting results and was able to deliver a good presentation. My PI and lab mates were impressed by the work and the findings. I wish I had more time to carry my project forward. In retrospect, as much I got frustrated with my initial results, it actually helped me grow
scientifically and critically evaluate my work.
Monday to Friday were my work days and the weekends were like mini vacation. Northwestern being situated along the shores of Lake Michigan, was a great hangout spot. I got to travel the windy city, Chicago, one of the largest cities of US, home to renowned museums, Millennium park, Navy Pier and the deep-dish pizza. I will never forget the breath- taking view of the city from 96th floor of John Hancock Tower and the boat ride on Lake Michigan. In the end everything worked out very well. It was an enriching learning experience. I got an insight of research and now I'm confident that I want to make it my career path. This summer was one of the best summers of my life, full of ups and downs but I enjoyed every bit of it. This internship helped me learn the importance of patience, organizing work and how to be independent.