WINStep Forward has partnered with Barefoot College in support of the work that they do there. Former US Bose Scholar Hannah Lider. Barefoot College is located in Tilonia, India, a voluntary organization that works in the fields of education, skill development, health, drinking water, women empowerment and electrification through solar power for the uplifting of rural people, which was founded by Bunker Roy in 1972. Since their inception, Barefoot has reached 92 countries, provided 1,000,000 people with light, educated 2,200 women are how to design and use solar-powdered devices. Their main curriculum is focused on training women with skills in basic digital IT skills, women's reproductive health, financial inclusion, environmental stewardship, legal rights and civil society, livelihood skills, micro-enterprise skills and self-awareness.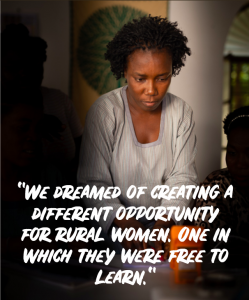 Barefoot College's Mission: "We believe in the endless potential of the rural poor. Barefoot College forges a first-of-its-kind, women-centered, global network dedicated to sustainable development in every community where poverty exists."
Hannah Lider, a 2015 scholar, joined Barefoot through a scholarship with Fulbright a year ago. While with barefoot, Hannah's projects focused on two items with Barefoot's traveling women's health clinic: one devising a more accurate and efficient test for measuring hemoglobin to screen for anemia in pregnant women; the other helping to digitize the clinic's records, which cover 40 villages. We are excited to continue to see how their organization gives exponentially to women in undeveloped countries to help empower them and teach them skills that will carry on well after their training.
Check out more on barefoot on their website: https://www.barefootcollege.org/
Hannah's project that WINStep decided to help with was "Improving efficiency and accuracy of anemia diagnosis by equipping community health workers with the best possible tools." Below is a more in-depth description:
"India has the highest rates of undernutrition in the world; in Rajasthan alone, children under five experience stunting and muscle wasting at 36.5% and 14.2% respectively. This is directly linked to the extremely high rates of anemia seen in the country: nearly 40% of the total population, and around 50% of all women have Hb levels below the healthy range. Though there can be many causes for anemia, the most common is due to nutrition deficiency. Difficulty in making proper diagnosis further perpetuates the problem. Symptoms are often not apparent until the condition becomes severe, at which point the consequences are tremendous. Anemia is the second leading cause of maternal death in Asia and accounts for 20% of all maternal deaths worldwide. Anemic children experience impaired behavioral and cognitive development in addition to physical consequences such as stunting and muscle wasting. This condition constitutes the intergenerational cycle of poor health in women and girls: anemic mothers give birth to low birth weight babies who experience stunting and wasting during childhood, grow into malnourished adolescents before becoming anemic mothers themselves and the cycle continues. Making accurate and efficient diagnoses will enable health workers to properly prescribe an intervention, such as locally accepted nutritional supplementation. Such an intervention will effectively break this intergenerational cycle, but can only be prescribed when a health worker is equipped to make an accurate diagnosis.
To take steps toward solving this problem, we are evaluating six different POC devices and comparing against a clinical gold standard. We are making this multi-way comparison based on more than diagnostic accuracy alone; we aim to understand overall suitability of each device for this specific setting according to several metrics.
This project will most directly benefit community health workers and pathologists. This study will give them confidence in the tools they are using to work; they will be able to do their jobs knowing they can trust their equipment. Of course, improving health workers' ability to provide quality service will then benefit the patients they serve. In this project, those patients are the 1200 children for whom we will be performing quarterly checkups. We hope that the benefit will extend beyond our reach to any patient in a rural setting with limited access to health services.
There will be additional benefit to our community in particular. Barefoot College health workers and pathologists will be conducting all the health camps required to collect data and will undergo many hours of training and practice to prepare. All camps are being conducted by them so that we can best understand the true use cases of each device. The whole process of carrying out this study will also serve to build the capacity of our team at Barefoot College.
This page is not an official site of the Fulbright Program or the U.S. Department of State. The views expressed on this site are entirely those of its author and do not represent the views of the Fulbright Program, the U.S. Department of State, or any of its partner organizations."
To read more, check out: https://consano.org/projects/accurately-diagnosing-anemia-at-the-point-of-care/#details