It is our pleasure to announce that WINStep Forward will be conducting certain aspects of the Khorana Bose internship virtually amidst the pandemic and going forward. WINStep Forward, with the help of Khorana-Bose Alumni, is taking the initiative of connecting current scholars with Alumni and reputed mentors in the US and India. We thank the Khorana-Bose Alumni who stepped in during this crisis to ensure that the 2020 Khorana and Bose scholars don't miss out on this opportunity.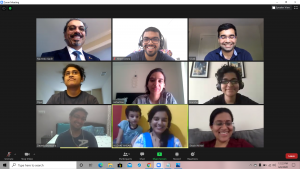 On Sunday July 5, 2020, WINStep founders Aseem Ansari and Naveeda Qadir hosted the kick-off Khorana Bose Alumni Mentor Virtual Sessions for Khorana Bose Alumnni and the 2020 Scholars who were not able to attend their internships this summer due to the Covid-19 Pandemic. In these sessions, we will hear from Khorana and Bose Alumni who have started their careers and would like to share their experiences from their internships and post-internships with the audience. We will also try to include a "tech talk" each Sunday session, in which a Scholar from any year will present a short talk about the project/technology he/she is working on.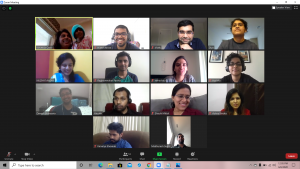 The first session included speakers Dr. Niranjana Natarajan, currently a post doctoral researcher at University of Pittsburgh, Dr. Devesh Bhimsaria, founder of BioInformaticals LTD in Jaipur, and Prasanna Ravindran, a PhD student currently studying electrical and computer engineering at Georgia Tech. Read the bios of last Sunday's speakers below.
Dr. Niranjana Natarajan is currently exploring the molecular mechanisms underlying inflammation in cardiovascular disease and heart failure with preserved ejection fraction. She was part of the Khorana Program in 2009. Niranjana did her Ph.D from the Johns Hopkins University School of Medicine (2011-2016), where she worked on the interplay of microbial metabolites and GPCRs in blood pressure regulation. Niranjana's graduate work was supported by an American Heart Association predoctoral fellowship. From 2016-2019, Niranjana was a postdoctoral fellow at Harvard University, where she worked on cardiac regeneration and heart failure. Niranjana received a NIH NRSA F32 fellowship to support her postdoctoral research. In January 2020, Niranjana moved to Dr. Partha Dutta's laboratory at the University of Pittsburgh School of Medicine to continue her postdoctoral research as a NRSA F32 postdoctoral fellow.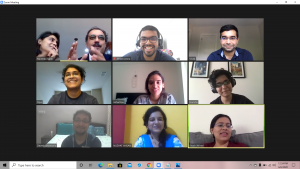 Dr. Devesh Bhimsaria works on development of computational tools and algorithm to elucidate DNA-protein binding obtained by high-throughput experimental platforms. In the past, he was part of the first batch of prestigious Khorana Scholar's program in 2008. In 2010 he received his Bachelor's and Master's degree in the department of Electronics & Communication Engineering of IIT Roorkee, with medal for securing 1st rank in the department. In his graduate studies he worked in the lab of Dr. Parmesh Ramanathan in the Department of Electrical and Computer engineering of University of Wisconsin, Madison. There he received "Academic achievement award" for securing maximum GPA 4.0 and "Harold A. Peterson Distinguished Dissertation Award" for his Ph.D. dissertation. He founded Bioinformaticals (http://bioinformaticals.com/) and currently working on targeted drug design in collaboration with various labs worldwide.
Prasanna Venkatesan Ravindran was a 2018 S.N. Bose Scholar at Johns Hopkins University. He received his B. Tech. in Engineering from IIT Palakkad with a Gold Medal in the Department of Electrical Engineering. He was also the Chief Editor and Co-founder of The Fleet Street, IIT Palakkad's student media body. He is currently in his PhD at Georgia Tech in the Department of Electrical and Computer Engineering, where he works on Ferroelectrics and electronics based on quantum effects in Dr. Asif Islam Khan's lab.