The afternoon of 10th January 2019, was one of the best moments of my life that I could never forget. I was in college, in my lab, waiting for some samples to centrifuge when I checked my phone. A Gmail notification blinked on the phone screen that struck me. It was an email from the Khorana program for scholars. It took me a few minutes to gather that I had been provisionally shortlisted for the Khorana program 2019, something that I had never anticipated for myself. It was a proud moment for me, my family and friends.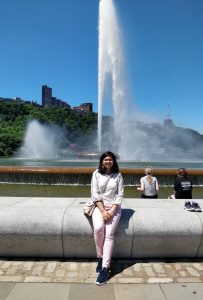 The journey henceforth had lots of ups and downs beginning from that day onwards. Then began the tedious process of selecting a mentor in my area of interest, and awaiting their response. Eventually, after three weeks of hectic interaction along with IUSSTF, I was lucky enough to have Dr Shilpa Sant (Associate Professor, Department of Pharmacy, University of Pittsburgh), agree to accept me as a research intern for her ongoing project, after going through my profile followed by a telephonic interview. She was extremely helpful and even asked one of her students to assist me in doing all my pre-process work (including housing).
My experience of working as a research intern in Dr Sant's Lab under the mentorship of Dr Shilpa Sant was extraordinary! Every day was a new day of learning. Working under other lab members – Dr Catalina Ardila (Postdoc) and Akhil Patel (PhD candidate) was a breeze. They helped me in any difficulty I faced during the project work and even suggested ideas when I would get stuck with something. There were lab meetings held every week where all the lab members would present their work and get constructive feedback from others. This approach inspired me to work hard and strive for excellence. I was fortunate enough to independently work on a part of their ongoing project involving the – Fabrication and characterisation of engineered mineralised Gellan Gum – Chitosan matrices.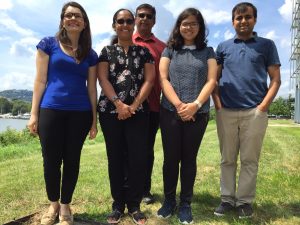 I am extremely delighted that my research work, of 11 weeks, has not only provided me with an enriching experience but has also materialised into an article titled – "Self‐assembly of multiscale anisotropic hydrogels through interfacial polyionic complexation", published in the Journal of Biomedical Materials Research Part A (https://onlinelibrary.wiley.com/doi/abs/10.1002/jbm.a.37001)
Pittsburgh is a beautiful city with pleasant weather. There are few attractive places to enjoy like Point State Park, Fort Pitt Museum, Mount Washington via Monongahela Incline, Cathedral of Learning (one of the best libraries I have ever seen). I visited almost all the amazing places within the city during the weekends and enjoyed these 11 weeks. Living alone, in a foreign city is not easy. Getting out from our own culture and adapting to another is very challenging. However, getting to be a part of new exciting research and my drive to pursue my dreams motivated me to overcome these challenges.
This whole journey has taught me that it is when you are put in an unfamiliar environment that you realize how much you can manage on your own. You take responsibility for yourself, manage expenses, plan things and overall learn so much from so many things and the new people you meet, who may not share the same culture as you but teach you lessons for life. It's a journey worth taking as a student. I owe a debt of gratitude to the entire team of IUSSTF and WINStep Forward for giving me such a wonderful opportunity that I would never have been able to experience otherwise.