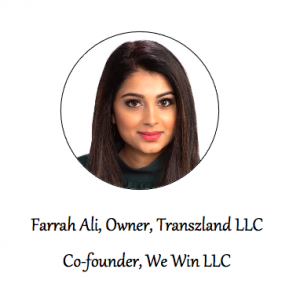 Forced to face the sudden reality of raising two young sons on her own, and frustrated with the cost of long-term life expenses, Farrah Ali set her mind to one thing – climbing. Maintaining her full-time employment as an insurance underwriter, she went back to college and finished her degree. Then she earned her MBA. After taking additional courses in real estate investing, Ms. Ali began building her property portfolio. Currently, she manages 28 rental properties, is a full-time insurance professional and real estate investor. She also serves an integral role in the Chicago Real Estate Investment Association (REIA).
In order to help other women learn how to take control of their time and finances, Ms. Ali co-founded We Win, a non-profit dedicated to teaching women how to invest in real estate. In line with her dedication to enabling women financially, Ms. Ali recently published a book, "Diaries of a Female  Real Estate Investor", and has recently launched an online real estate investing class. According to her, one of the best things about being an entrepreneur is owning her time. She advises young entrepreneurs to believe in themselves and to stay away from "all the negative chatter".
LINK TO FARRAH ALI'S COURSE ON REAL ESTATE HERE.