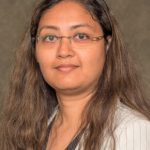 Research Area
Biology, Chemistry, Ecology and Evolutionary Biology
Institution
Michigan State University
Research Area: Weed biology and management for ornamental crop productions, Horticultural science.
Michigan is one of the largest producers of ornamentals and third largest producer of Christmas tree production in the United States. There are about 705 greenhouse operations producing $472 million worth of ornamental crops. Weeds are a major issue in these ornamentals and Christmas tree production as hand weeding is extremely laborious, time-consuming, and expensive. Improvement in weed management techniques can help the growers to improve their production and increase their profitability.
Weed biology, ecology, and management for ornamental crop production in nurseries, greenhouses, landscapes, and Christmas tree production is the main area of research at my lab. We are trying to develop different weed management techniques and strategies which can be effective, economic and environment friendly including both chemical (herbicides) and non-chemical approaches.
Some of the potential research areas that my lab will be working on are:
Technological advancement in weed control strategies– Using concepts of machine learning for detecting weeds for site specific weed management; Remote sensing approach for mapping weeds at different growth stages in the field; Weed detection method by hyperspectral imaging system for automatic mechanical weed control; Usage of drones (unmanned aerial vehicles) for specific weed identification and spot application of herbicides in precision agriculture.
Chemical methods in weed management practices- Study of specific weed species and their response to different herbicides at different rates; Development of new biopesticides for greenhouse production systems; Evaluation of allelopathic properties of different mulch materials and their impact on weed seed germination; Identifying herbicide resistant weeds; Label expansion of different herbicides; Efficacy study of specific herbicides on weed species;
Weed Ecology- Weed and ornamental plant competition within containers; Effect of climate change on specific weed populations; Developing prediction models for herbicide resistant weeds.