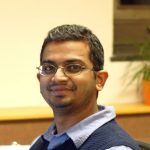 Research Area
Biochemistry, Cell Biology, Genetics, Microbiology, Molecular Biology, Neuroscience
Institution
Indian Institute of Science Bangalore
Dr. Naren Ramanan graduated with a Ph.D. in molecular microbiology from the Institute of Molecular and Cell Biology (IMCB), National University of Singapore. He then joined the laboratory of Prof. David Ginty as a post-doctoral research fellow in the Department of Neuroscience, The Johns Hopkins University School of Medicine in Baltimore, MD, USA. After completing his post-doctoral training, Dr. Ramanan joined as an Assistant Professor of Neurobiology in the Department of Anatomy and Neurobiology, Washington University School of Medicine in St. Louis, MO, USA. In July 2013, Dr. Ramanan moved his laboratory to the Centre for Neuroscience, Indian Institute of Science, Bangalore.
His lab is interested in several longstanding questions in developmental neurobiology:
(1) what are the molecular mechanisms regulating axonal growth during development and how these mechanisms can be activated to promote axonal regeneration after injury.
(2) what are the mechanisms regulating neural stem cells to astroglial differentiation in the brain? How do these mechanisms go awry in gliomas, the major tumours in the brain?
His lab uses a combination of mouse genetics, molecular, biochemical and cell biological approaches to understand various aspects of central nervous system development.