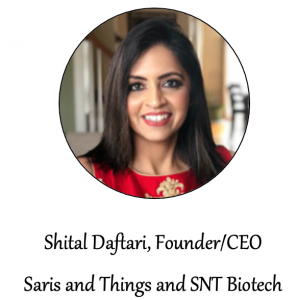 HIGHLIGHT: Winner, Enterprising Woman of the Year 2021 Award
Shital Daftari knew a marketable idea when she had one. Frustrated with the lack of readily available quality Indian formal clothing in the United States, and recognizing it to be a shared frustration among the large, growing South Asian community in the U.S., Mrs. Daftari launched her own online Indian formal wear rental company, Saris and Things. As confident as she was in her idea, there was still risk involved. For one thing, her clothing company would rent out Indian formalwear (with option to buy). This was an unheard of idea within the South Asian community, and Mrs. Daftari heard from her share of naysayers. However, she clung to her idea like it was a lifeline, in part because it was. She identified it as her opportunity to escape from a job she "had been stuck in for ten years".
After launching her rental clothing company, many competitors followed suit. However, Saris and Things remains the number one online rental Indian clothing retailer in the U.S. After her successful launch of SNT Biotech, a company she started during COVID-19 which sells lab supplies, lab kits, etc., Mrs. Daftari won the Enterprising Woman of the Year 2021 award. Mrs. Daftari dedicates her success to grit and perseverance. Positive attitude, strong work ethic, and ability to change course are also crucial, but she encourages young entrepreneurs not to overanalyze a potentially great idea. "If you think you have a great idea, go for it". Mrs. Daftari is also the co-founder of the Women's Empowerment Campaign Chicago (WE), a networking & empowerment platform for Indian & Southeast Asian women in Chicago.