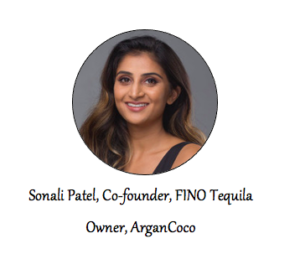 Having a father as a highly successful entrepreneur helped instill the entrepreneurial spirit within Sonali Patel, who knew early on she wanted to start her own business after college. Upon obtaining her Bachelor's degree in Management Information Systems, and drawing upon the fond memories of her grandmother "malishing" oils into her hair, Ms.Patel wasted no time in founding her own natural hair product line, ArganCoco.
A somewhat chance, somewhat coordinated encounter with kindred entrepreneurial spirit Jana Iyer led to Ms. Patel and Ms. Iyer co-founding FINO Tequila, a brand of tequila distinguished by its super smooth and non-hangover inducing qualities. Both were novices in the liquor industry, but after immersive R&D at small family-run Mexico based tequila distilleries, they launched FINO Tequila in 2018. In just 12 months, their tequila brand was being sold at popular liquor stores, premium bars and restaurants in Illinois, Washington DC and Maryland. The company doubled in sales within the first six months.
Having been raised in a household where family and business interweave rather than collide, Ms.Patel relishes her role in managing her business teams. In her words, "If they're not your family, they become your family." Ms. Patel urges young entrepreneurs to be creative, think outside the box and, if they can, "get 10 balls rolling at once" to see which one(s) will find their mark.