WSF – A LEADER IN DEVELOPING GLOBAL STEM RESEARCH AND TRAINING PROGRAMS
For the past 8 years, Winstep Forward (WSF) has initiated precise, innovative programs that aim to solidify the exchange of STEM based learning and technologies between the United States and India. Now we envision building globally accessible virtual and in-person education, research and training programs in certain niche areas, including global health. WSF also has extensive experience in building academic collaborations as well as building academic-industry collaborations.
US Health Alliance (USHA) with India program is one of such initiatives where WSF will be partnering and collaborating with various top research and educational institutes in the US and India (as shown below) to address global healthcare challenges. A phased growth will include the extensive global collaborative ties of these institutes in the program.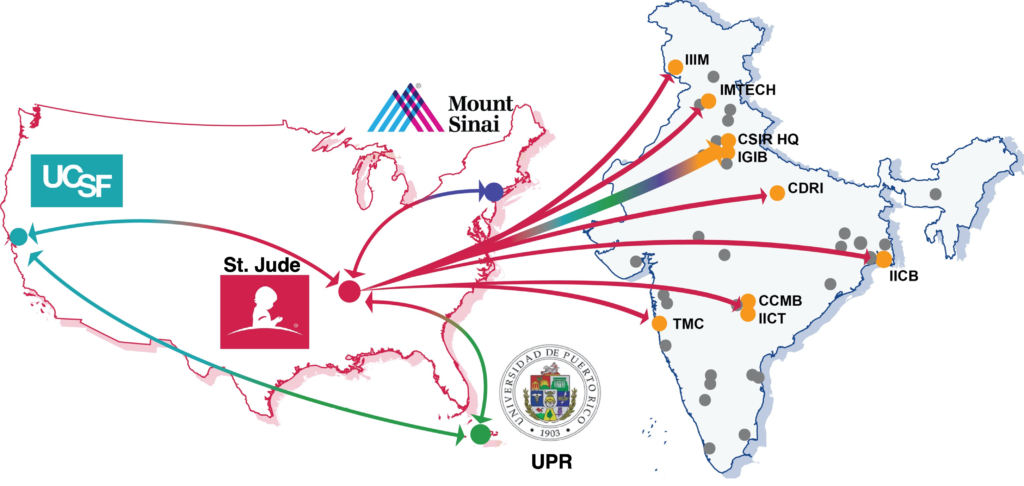 SIGNIFICANCE OF THE USHA-INDIA PROGRAM
The current pandemic has laid bare the limits of existing systems to tackle healthcare challenges that emerge in unfamiliar corners of the world and rapidly circumnavigate the globe. As the virus crisscrossed the globe, evolving and gaining momentum at every stop, it highlighted the need for improving inter-institutional operability between healthcare systems of different nations.
The US Healthcare Alliance (USHA) with India Program integrates research, training and education across diverse institutes in the US and India
 to launch new cross-disciplinary scientific/clinical collaborative initiatives and partnerships, and
to strengthen existing collaborations,
thereby ensuring sustainability of global research networks that address new and old global healthcare challenges.